San Jose City College
---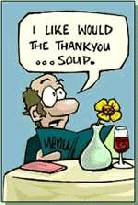 Word Order of Adverbs, Adjectives, and Standard Phrases

Minor sentence structure errors are more easily dealt with as Word order (WO) errors when the problems involve the following:
♦ Position of adverbs of frequency
♦ Position of adverbial expressions of time, place, manner, degree
♦ Movable adverbs and transitional phrases
♦ Position of adjectives AND series of adjectives
♦ Position of object pronoun with separable phrasal verbs
♦ Word order in common phrases

This category does not include full sentence order or misplaced and dangling modifiers, which are coded as a sentence structure errors.

Select a topic from the table below or work your way through this topic page by page.


---
ESL Program@San Jose City College
Powered by
LanguageTeach
Software.
Copyright © 2006. All Rights Reserved.